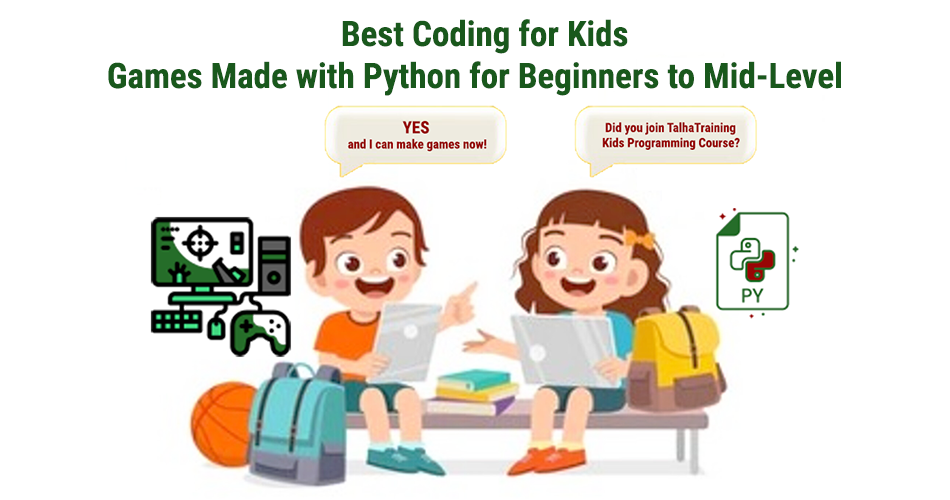 Course Fee: 3500 TK per Month
Total Course Fee: 21,000 TK
Training Overview
Python is a general-purpose language which is designed to be simple to read and write. Python is Reliable and Efficient.
By the end of the course, you will be able to create many types of games, and animations.
You will also have a firm grasp on what is needed for any future programming languages.
You will be able to learn other programming languages faster.
Requirements
Windows software (Any browser latest version like Chrome, Firefox, or Internet Explorer) (will show you how to get it-free)
Screen sizes 1024 x 768 or larger
Python, Pygame (will show you how to get it-free)
Who this course is for
Kids (7+)
Stay at home mothers or fathers
Grandparents
Others
Training Objectives
We will teach you how to build technical knowledge and skills to join and be a Python Programmer.
Ever wanted to learn how to make a computer game? This video introduces Python, a programming language, that's easy to learn and use. Have fun creating games and playing them with your friends!
While this course is mainly for kids 7+, anyone can take this course. This course would also be good for stay at home moms or dads as well as grandparents who want to stay involved with their grand-kids.
The course is structured as a series of classes explaining many of the "functions" of Python.
Training Outline
Learning to Code with Python (10 Classes)
What is Programming?
Drawing with Turtles
Variables
Loops
Saving and Running Programs
Functions
Input and Conditional Statements
Number Guessing Game
Rock Paper Scissors Game
Secret Codes
Creating Computer Graphics
Simple Animation
Animating More Objects
More Fun with Animation
Game Development with Pygame: Shooting Game Development (10 Classes)
Installing and Setting Up Python IDE for Game Development
Getting Started with Pygame
Working with Sprites
More About Sprites
Player Sprite and Controls
Enemy Sprites
Collisions (and Bullets!)
Adding Graphics
Improved Collisions with Examples
Sprite Animation
Score (and Drawing Text)
Sound and Music
Shields
Explosions
Player Lives
Powerups Part One
Powerups Part Two
Game Over Screen
Game Development with Pygame: Jumping Game Development with Platforms (10 Classes)
Setting Up
Player Movement
Gravity and Platforms
Jumping
Scrolling the Window
Score and Game Over
Splash & End Screens
Saving High Score
Using Spritesheets
Character Animation Part One
Character Animation Part Two
Platform Graphics
Improved Jumping
Sound and Music
Powerups
Enemies
Using Collision Masks
Scrolling Background
Wrapping Up Final Game
Game Development with Pygame: Zombie Shooting Game Development (10 Classes)
Setting up
Collisions and Tilemap
Smooth Movement
Scrolling Map / Camera
Player Graphics
Rotating Player Sprite
Creating Mobs
Mob Movement
Basic Shooting
Player and Mob Health
Tiled Map Editor
Loading Tiled Maps
Map Obstacle
Better Zombie Movement
Simple Visual Effects
Items
Tweening/Easing Animations
Sound Effects
Pause Screen
More Weapons
Damage Effect
Game Over
Lighting Effect
Pygame Game Developments In-depth Topics (8 Classes)
4-way vs. 8-way Movement
Time-based vs. Frame-based Movement
Non-integer Movement
Steering Behaviors (Seeking)
Steering Behaviors (Wander)
Steering Behaviors (Flee)
Pathfinding
Breadth-First Search
Finding Shortest Path
Dijkstra's Algorithm
A* Search
Certificates will be awarded to participants at the end of training.
Seats are limited. To confirm your enrollment, pay the course fee @
| | |
| --- | --- |
| A/C Name: | TalhaTraining |
| A/C No.: | 2141116000973 |
| Bank Name: | Prime Bank Limited |
| SWIFT Code | PRBLBDDH |
| Routing Number | 170263614 |

And mail us after paying the course fee.
For registration or information please call or contact any of the following addresses
TalhaTraining
Mobile & WhatsApp 01712742217
Email: training@talhatraining.com or talhatraining@gmail.com
Website: talhatraining.com
Office Address: 12F, Dolonchapa-2, Flat#301, Rajuk Uttara Apartment Project, Sector 18, Uttara, Dhaka – 1230
Course Features
Lectures

85

Quizzes

0

Duration

96 hours

Skill level

All levels

Language

English, Bengali

Students

187

Certificate

Yes

Assessments

Yes
Coding for kids refers to the opportunities available for children to get involved in coding. These opportunities aim to be fun and gamified to keep kids' young minds engaged. You might also hear coding referred to as "programming," or "computer programming."
Learning to Code Develops Problem Solving and Computational Thinking Skills. The skills that come with computer programming help kids develop new ways of thinking and foster problem-solving techniques that can have big repercussions in other areas.
Experts are of the view that children should learn coding at an early age. According to MIT, the best age for kids to start learning coding languages such as Scratch Jr is from the age of 5 to 7. People often achieve this through different logical games that help in simulating the skill of coding.
The programming languages that are the easiest to learn are HTML, JavaScript, C++, Python, Java.
Coding is a part of programming that deals with writing codes that a machine can understand. Programming is a process that creates programs that involve the ratification of codes. Coding requires basic knowledge of programming skills without any software tools.
Coding creates a set of instructions for computers to follow. These instructions determine what actions a computer can and cannot take. Coding allows programmers to build programs, such as websites and apps. Computer programmers can also tell computers how to process data in better, faster ways.
Since programming and coding require building logic around numbers, mathematics skills are essential for programmers to master. Without an understanding of certain concepts in mathematics, coders and programmers are left without the tools they need to succeed.
Coding develops problem-solving skills. Through coding, children learn to quickly fix and try again in different ways when something doesn't work out. Coding also equips kids with the ability to stick with a problem and work on finding a solution. This problem-solving technique is transferable to a lot of other fields.
UK computing pioneer Dame Stephanie Shirley suggested that children as young as two should be learning to code. She's absolutely right that really young children can develop coding skills in the right environment.
Coding can boost problem solving and logic skills.
A programming language is any set of rules that convert strings, or graphical program elements in the case of visual programming languages, to various kinds of machine code output. Programming languages are one kind of computer language and are used in computer programming to implement algorithms.
Coding for 7-year-olds is best taught by using high-interest forms of content for creative programming projects. We have found that the best way for a child this age to learn to code is by using game design and development.
In a world that runs on technology, programming skills offer excellent career options, from software engineering to front-end development. Computer programming is also one of the most flexible careers; it offers many specialization opportunities, the ability to work remotely, and more.
Coding teaches problem-solving and critical thinking skills. Problem-solving is needed in any industry, and in any career. By teaching kids problem-solving skills early on through coding, they are better prepared for the world that follows after high school and beyond.
Experts are of the view that children should learn coding at an early age. According to MIT, the best age for kids to start learning coding languages such as Scratch Jr is from the age of 5 to 7. People often achieve this through different logical games that help in simulating the skill of coding.
In today's world, gaming is not limited to entertainment and hobby, it has become a good career option for all those who love creativity and have a passion to develop new video games.
C++ is the most popular language for creating game engines, the development environments where game programmers create and host their interactive worlds.
Adventure Creator is the asset you need if you're into making 2D, 2.5D or 3D games in Unity, no coding required.
Both English and Bengali languages are available to join online training.
This course has both online and classroom facilities.